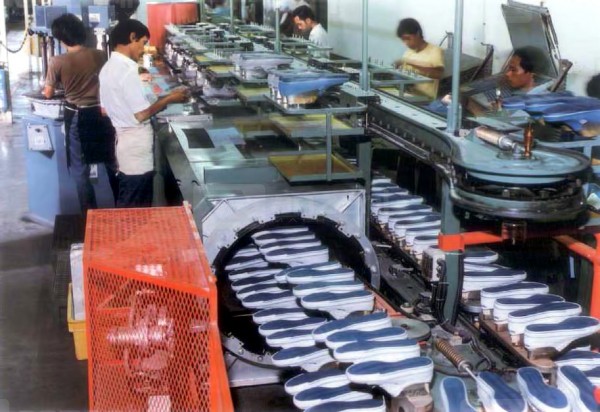 Vulcomatic Robot
Robotic Conveyor for Vulcanized Shoes
VULCOMATIC Robot is a timed conveyor for all operations necessary for the production of vulcanized shoes, fromassembly to finishing. This system combines the Vulcomatic and ATS technology, making it the most advanced systemon the market for the production of vulcanized shoes. Vulcomatic Robot is composed of two levels, in the upper floor the assembly and finishing phases are carried out, some operations such as pounding, roughing and cementing are carried out by the robots, others manually. Once these phases are over, an operator will put the shoes from the upper level trolleys to the lower level trolleys. Automatic vulcanization and cooling are performed on this floor. The trolleys enter and exit directly into an autoclave positioned on line, without the intervention of any operator. This conveyor, moreover, allows all the heat treatments to be carried out automatically: humidification and ironing of the upper, drying/reactivation of the glue and cold ironing.
Anzani's Surplus:
Maximum production organization
Great time saving
Large space saving
Great energetic saving
Full production on one conveyor
Low working process
Automatic heat treatments
Automatic vulcanization
Lasts saving (470 pairs of lasts for producing 1500 pairs of shoes in 8h)
Improvement of the quality of the final product
Made in Italy
Get the full catalogue here: http://www.anzanimachinery.it/en/98/newsletter.html
Watch the video: https://www.youtube.com/watch?v=taZEtvTebiI&t
Documents
Enter Name and E-mail to download the pdf catalogs.