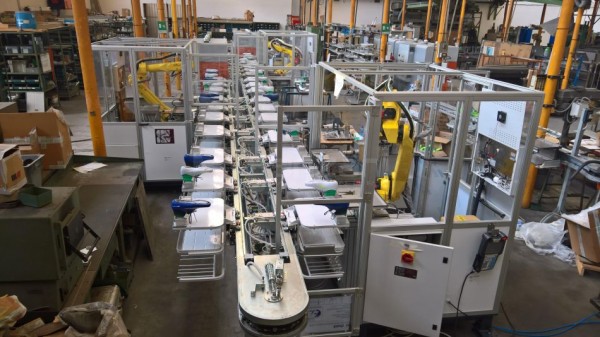 ATS
Robotic Conveyor
A.T.S. (Advanced Tracking System) is a timed conveyor for all the operations necessary for the production of a shoe, from assembly to finishing. The technological revolution brought by A.T.S. is the possibility to carry out entire operations automatically with the aid of robots. The operations carried out by the robot, directly on the chain conveyor, are pounding, roughing, cementing of shoes and soles. The high productivity is regulated by the operating times of the robots, which also give rhythm to manual operations. This new conveyor replaces pallet conveyors, usually used in robotics, being more flexible, economical and versatile for each operation. This system, moreover, allows all the heat treatments to be carried out automatically: humidification and ironing of the upper, drying / reactivation of the glue and cold ironing.
Anzani's Surplus:
Maximum production optimization
Great time saving
Great labour saving
Full production on one conveyor
Low working process
Automatic heat treatments
Suitable for any type of footwear
Made in Italy
Get the full catalogue here: http://www.anzanimachinery.it/en/98/newsletter.html
Watch the video: https://www.youtube.com/watch?v=tG1w7qpzN8k&t
Documents
Enter Name and E-mail to download the pdf catalogs.
---
Gallery